EXPLORE OUR CATALOGS
We pride ourselves on making beautifully printed marketing materials, that work for both our customers and their customers shopping in-store.
Please enjoy browsing our catalogs digitally below. You may also request printed copies of catalogs (those that are available). Simply submit a request form located below and we'll mail you one!

Please note we do not sell directly to consumers nor do we mail our catalogs to them.
THE 2023- 2024 ANNUAL ROYAL CHAIN CATALOG: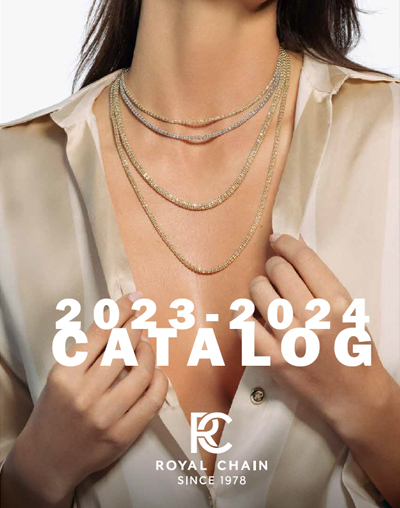 You can download the pdf version of the 2022-2023 main catalog from this link.
2023-2024 ANNUAL PHILLIP GAVRIEL CATALOG
NEW RELEASES (2023):
| | |
| --- | --- |
| | |
| Royal Chain Spring 2023 Collection Brochure | Phillip Gavriel Spring 2023 Collection Brochure |
| Released March 2023 | Released March 2023 |
| | |
| | | |
| --- | --- | --- |
| | | |
| Royal Chain Spring 2022 Collection | Phillip Gavriel Spring 2022 Collection | The Bridal Book 2022 |
| Released March 2022 | Released March 2022 | Released May 2022 |
| | | |
Feel free to browse some of our older books here: